01/23 Understanding Aging (No. 2) From Electronic Engineering to Quantum Engineering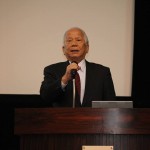 Understanding Aging (No. 2)
From Electronic Engineering to Quantum Engineering
In October of last year (2019), Google announced that it had achieved quantum supremacy. Google's quantum computer had performed a type of computation in just three minutes that its researchers claim would have taken a state-of-the-art supercomputer 10,000 years to compute. We have also been hearing more insistently in recent years about "Beyond the von Neumann Computer" and "Beyond the Transistor"—how we are finally reaching the physical limit to how small transistors can be made.
In 1958, at my alma mater, Osaka University, the School of Engineering established a Department of Electronic Engineering to offer learning in a budding new field. I took the first classes offered in that new department while remaining affiliated with the Department of Electrical Engineering. More than six decades later, I look back on a career that has kept me at the leading edge of electronic engineering the entire time.
In November of last year (2019), Panasonic announced that its semiconductor business, which I had been closely involved with for nearly 60 years in research, development, and commercialization, was being sold off in its entirety to a Taiwan-based semiconductor company. The news came as a shock, but I also knew that it was time. Perhaps these complicated mixed feelings are only natural. Yet somehow I still feel sad about it. The event has helped me to understand a second stage of what it means to age.
The electronics industry went through a process of maturation in Japan, and now it is going through a great transfer to the Asian continent. I should feel nothing but happiness about this as a researcher and technologist, knowing that my true mission has been to benefit all of humankind. Yet I can't seem to shake a feeling of forlornness.
It is easy to see how the world of quantum mechanics will form the next foundation for the continued existence and thriving of humanity. Yet, to people my age, familiar with classical semiconductor physics, the obstacles to truly understanding and harnessing the physics underlying quantum mechanics seem nearly insurmountable.
---